our mackintosh arrived on friday, just in time to make an appearance at a jewelry party i hosted the next day. the piece matches our walls and furniture very nicely, and both david and i are pleased with our choice. thanks to aunt ruth and uncle rich for their generous wedding gift, which made possible the purchase of this piece.



the party itself was a great success (sorry i don't have pictures--i was too busy playing hostess), and it was a fun excuse to have friends over, make a little (or a lot of) lunch, and pick out some fun, sparkly things.

david was wise to get together with a couple of his buddies for the afternoon. they went to walker brothers and then back to steve's to drink beer and hammer up some dry wall, er, play video games.

saturday evening saw us out and about for dinner with my parents and our friends joey and nancy, who had both taken part in our wedding receptions. as a thank-you, my mom and dad treated them (and us) to dinner at the lucky platter. i have wanted to go to the lucky platter ever since finding out that it was there that david announced to my parents his intentions to marry me. and, yes, to ask their permission. what i had not expected was to find such a quirkily eclectic atmosphere and mouth-watering foods. from the moment i took a bite of my skirt steak, i knew i would have to return. and once i tasted david's sweet-potato fries, i decided i would return the next day! not really, but i could have gone back again that soon.

yesterday we spent a good part of the afternoon picking out mats and frames for a poster to be hung over our bed, and two of david's photos to be hung in the office. the apartment seems all the more finished--and all the more like home--now that we have things on the walls. these things reflect who we are, our interests, and our background.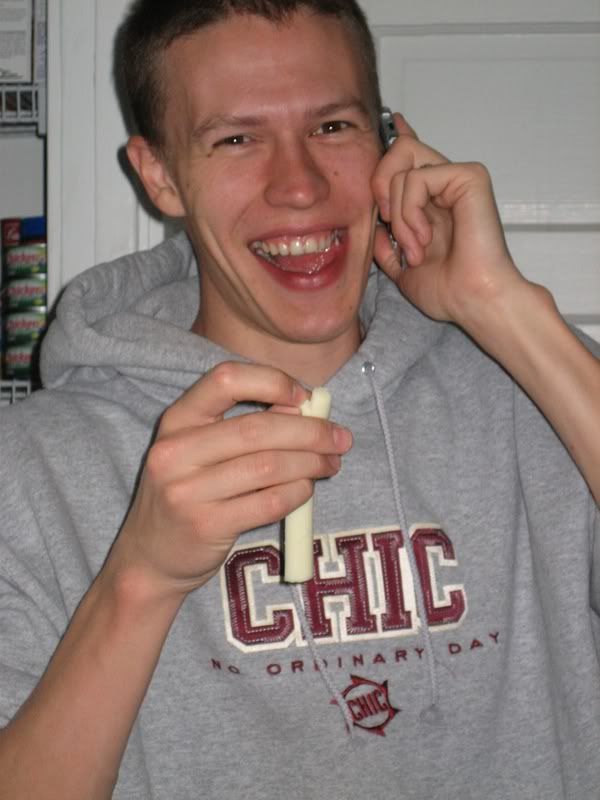 upon returning home, we ate leftovers for dinner, watched breach, played a few rounds of
speed
scrabble, had a glass of wine,
and david called his parents and his sisters. the smile on his face pretty much sums up the weekend (or maybe it's just that he really likes string cheese?)
.