when i think of october, i think of brightly colored leaves crunching beneath my feet, of hot cider and warm blankets, of fleece jackets and clogs, of brisk mornings and cool days.


i do not, however, think of 90-degree heat, capris, and t-shirts.


but this past saturday, that was what we got.
melissa
and steve had invited us to join them at
ziegler's apple orchard
for a day of apple picking, hay riding, and whatever other fall fun was available there. knowing that
the weather would be unseasonably warm, they called ahead to make sure all activities were still accessible, only to learn that all of their apples had been picked. to tell the truth, i was a tad
relieved. who wants to wear jeans for a hay ride on a 90-degree day?


instead, we opted to head to
long grove
, a quaint little town that is known mostly for its shops and its seasonal festivals. october 5-7 was the annual
apple festival
, which always brings an enormous crowd, all there for the delicious apple cider, apple donuts, apple pies, caramel apples, and family-friendly atmosphere.


we arrived around two o'clock and were all very hungry, so we made our way to the village tavern for lunch. while waiting for our food to arrive, we had a lot of fun at
the expense of our paper placemats, on which were a variety of advertisements, fun facts, and grammatical errors. it was an editor's nightmare, but it provided us with some entertainment.


following lunch we strolled outside until we found ourselves at the apple haus. a line of people wanting to buy apple-flavored goodies snaked through the building, and we tagged ourselves onto the end. a good forty-five minutes later, we were at the register, buying our very own apple donuts, pumpkin pancake mix, and apple cider slushies.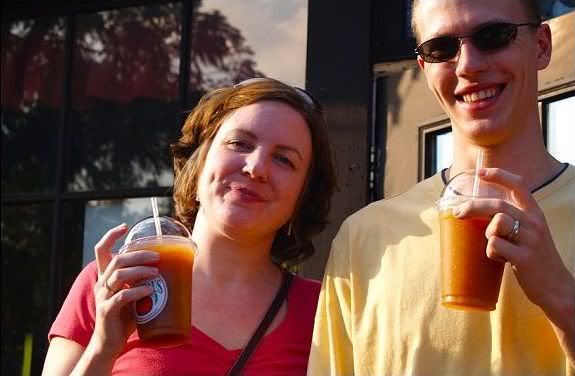 though we weren't there very long, the heat and the crowds were enough to nudge us back to the car. a kind couple took a group photo in return for melissa taking a photo of them.


the car to which we returned was not just any car. it was melissa and steven's bright 'n' shiny

new

car, which melissa named fiona ford.


congratulations to the proud parents!