day three at
w3
is complete! we did a little ab work with exercise balls today, which, as much as it kills, will be done by me again next time i go! i've heard that it takes about 21 days to form a habit and truly make it part of one's routine, but as i told melissa in the car this morning (as i chattered away on my post-exercise high), i think we've pretty much sold ourselves on this new practice.
the other thing i'm sold on is
sparkrecipes
, where i found this delicious salmon dish. we hosted my dad for dinner last night, as my mom is still in vermont, and we thought he might like something home-made and not from a can. like salmon? garlic? mustard? give this a whirl:
baked dijon salmon
4 salmon filets
1 teaspoon garlic salt
4 tablespoons unsalted butter
8 teaspoons dijon mustard
8 tablespoons red onions, sliced thin
preheat oven to 400 degrees. rinse salmon in cool water and pat dry. sprinkle garlic salt on top; rub in.
melt butter in pan; add mustard and stir.
place salmon filets on large piece of tin foil. pour mixture over top of salmon, using a spoon to coat the sides. spread onions on top.
wrap in foil,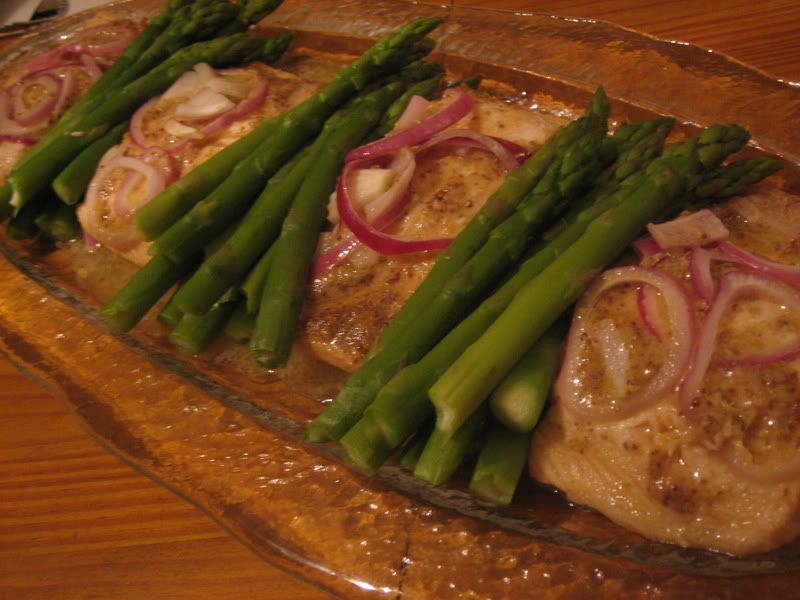 sealing securely so butter won't leak. set directly on middle oven rack.
bake for 20 minutes, or until salmon flakes off with a fork.
åtnjuta!