two of my friends, melissa and audrey, have spent the last four years growing their hair. not just 'cause you can do fun stuff with it or because they thought it was most flattering to their face shapes. they did this because, when it was long enough, they planned to donate their hair to an organization called locks of love. locks of love provides hairpieces to financially disadvantaged children, age eighteen and under, who suffer from long-term medical hair loss.

the fact that melissa and audrey would spend years to grow out their hair, keeping it healthy (no dying allowed, not that either of them would need to) for the sole purpose of helping children who have lost their hair because of alopecia, cancer, and other diseases, is an awesome thing. but they're pretty awesome women to begin with.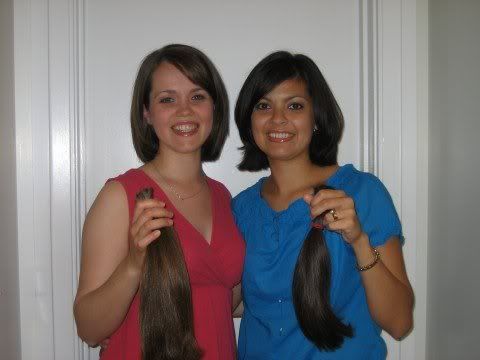 it's merely a bonus that they both look great no matter their hair length. you rock, women! thanks for you compassion and for putting that compassion into action.