one car, three women, four days, seven hundred and twenty miles, and too many cranberries to count!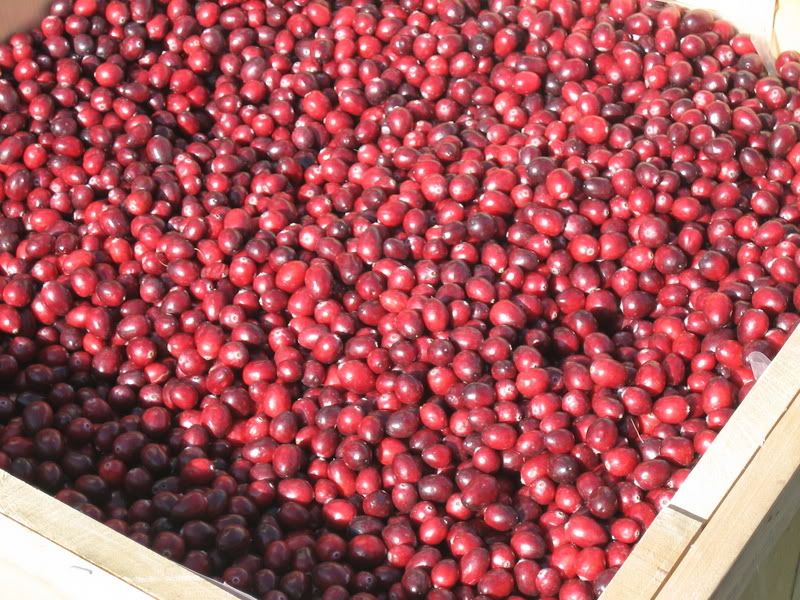 this year eagle river, wisconsin, celebrated the twenty-seventh annual cranberry fest. the fairgrounds were filled with tents, and everything and anything cranberry (not to mention a host of arts and crafts offerings and deliciously-bad-for-you fried cheese curds) was at our fingertips. cranberry cheese, cranberry sausage, cranberry beer, cranberry wine, cranberry cheesecake, cranberry chutney, cranberry bacon, cranberry danish, cranberry chicken sandwiches, cranberry hamburgers, cranberry salsa, cranberry grilling sauce . . . you name it, they had it. did i leave out the most obvious? fresh cranberries.
the day before the festival started, we took a tour of the three lakes cranberry marsh and the three lakes winery. for six dollars, we were taken on a two-hour tour of the marsh, where we learned how cranberries are grown and harvested . . .
. . . and the winery, where we learned how the cranberries are made into wine. we were then treated to a tasting of four of three lakes' wines. a quick trip through the gift shop yielded a few bottles of wine for each of us, as well as a few other tasty items to enjoy. after the tour, we drove to a little shop/restaurant called the flour sack, where we enjoyed a delicious lunch and found a few kitchen goodies to bring home with us. the rest of that day was spent relaxing back at the house and watching a couple of movies.
saturday was the first day of the festival. even though we knew it would be packed, we waited until noon to head in. after all, we were there to relax, so we agreed that sleeping in was a good idea. we parked a good half-mile from the grounds to avoid the frustration of not finding anything closer and walked over. it was a beautifully sunny day, with a chilly fall breeze. perfect. we perused the various arts and crafts tents and took the liberty of tasting nearly everything that was available at the various tasting booths, and then sat to have some lunch and share a cranberry beer between the three of us. after walking around for a few hours we called it a day and headed back to the house to rest.
mid-way through the afternoon, we decided to take a brief walk down the road and take some photos. a lot of trees were cut down recently due to a disease that was spreading and, as a result, laurie found this sweet little seat for to rest upon.
on the return trip, we encountered the sun coming around the bend and warming this tree.
sunday was definitely the laziest of the lazy days. i slept until nine and spent most of the morning watching old episodes of the young riders, a show laurie and i watched faithfully during our high-school years. nancy had never seen it before, but she was glad to be introduced. after a few hours of lazing around, we decided to take another walk, this one more lively than the last. therefore, no pictures. after the walk, we each took a shower and got ready to head to conover for dinner. but first we stopped by the farm on which laurie's dad grew up. his cousin now lives there with his wife, but they were out of town. we walked around the grounds for a bit and took some pictures. i've always loved the shape of the barn and was glad to see they had painted it again.
clinging to the side of the barn was a huge stalk of clematis that had gone dormant for the winter, which made for some interesting photos. here is one i took, as well as a photo of some apples still holding fast to their branches in a nearby tree:
when we had had our fill of farm photos, we drove to conover for a light dinner at the log cabin, a teeny little place with really good food and friendly service.
monday came and we were sad to leave (though i couldn't easily mask my happiness at the prospect of seeing david again). we cleaned and tidied the house so laurie's mom and dad wouldn't return to an unkempt home and were on our way by twelve thirty. it was a great trip and fun to hang with two incredibly funny, kind, and generous women.

love and cranberries to all!