in honor of love thursday, i want to take this opportunity to introduce to you five of my favorite women in the world. or, as i refer to them, "my girls." these are the women who will be standing beside me on june ninth. i recently emailed them as a group, giving little bits of information about each of them by way of introduction, as not all of them have met. looking at their names, i realized that each one of these women represents a different stage in my life, and i think that's really cool.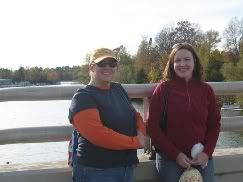 laurie, maid of honor. maybe we'll call her the woman of honor. haven't figured that out yet. at any rate, laurie and i have known each other since her birth (i was two months old), and our families go way back. we have gone to grade school, high school, and college together, and we're still friends! she's as much a sister as she is a friend, really, and the fact that she has been so welcoming to david and has become friends with him means more to me than even i knew it would. laurie is a recruiting coordinator in downtown chicago and is an avid fan of the cubs and the green bay packers. i would care about the latter if i gave a rip about football.
tonya. tonya is my second cousin, though we have a friendship that exceeds that of the typical familial relationship. we got to know each other during our summers in wisconsin when we were kids (weren
'
t we <----- cute?), but became good friends when she moved to chicago for grad school. tonya is a social worker at a school for students with behavior disorders, and she is in the midst of preparing to lead a group of twenty-two colleagues to tanzania! she, too, is a packer fan, but at least she's from wisconsin! (sorry, laur!)


valerie. val and i met on our first day at von steuben high school.

she was really excited

and

i was really nervous

. in spite of this (or perhaps because of it) we connected and developed a friendship that has lasted for fifteen years. val and her husband, greg, live in raleigh, north carolina, with their dog, jake, and they are in the process of adopting baby gabriel ("the gabester," as val calls him) from guatemala. val runs her own psychological therapy practice.


jennifer. friends since college, jennifer and i were in choir and chamber singers together, did a musical or two, and, together with laurie, experienced six months in sweden and some crazy european travels that will not soon be forgotten. the same goes for the time she and i got lost in boston because neither of us knew what a kiosk was. some college students we were. jennifer is a school psychologist and mom to emma, who is my goddaughter. jennifer's husband, magnus, will be singing in the wedding.


melissa. melissa started out as my student worker, but ended up as one of my dearest friends. we share a love of wine and cheese, friends, organization, good music, and many other things. melissa and her husband, steve (another good friend to both david and me, and one of david's groomsmen), both work at the headquarters of the evangelical covenant church, and they live in the north park neighborhood with "steven's cat," shade.


thank you for standing by me for all these years, ladies, and especially for standing beside me when david and i marry on june nine, two thousand seven!