the brunch club met again this past saturday at soon-to-be-famous-on-my-blog- i-mention-it-so-often tre kronor. melissa, kjersten, audrey, julie, and i shared a cinnamon roll to start, and melissa had our server put a candle in it in honor of kjersten's birthday, which is on december twenty-sixth. melissa also brought a bottle of champagne in order that we might celebrate david's and my engagement. she's so thoughtful that way! each of the girls signed a card for me/us, and julie also gave birthday cards to kjersten and me. we had a lot of fun, as usual, laughing and sharing our latest stories and concerns.
a-m, audrey, melissa, julie, and kjersten

they also required that i show them the beautiful (and tasty!) replacement ring david gave me while mine is at jewelry sleep-away camp. it's watermelon!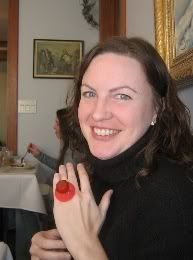 after brunch, we took a walk across the street to the sweden shop, which is owned now by tre kronor owners patty and larry, and i used the very generous gift certificate given me by my parents to purchase a new, oh-so-shiny pair of danskos, the most comfortable shoe in the world.
that afternoon, my mom, my maid of honor laurie, and i went to saran bridal salon for a gown appointment. i spent nearly an hour and a half trying on a good number of dresses. i didn't fall in love with any of them, but i definitely learned what i like and what i don't like.
on friday afternoon of this week, david and i have our first appointment with our pastor, during which we will each take a pre-marital inventory, which is the first step in our pre-marital "discussions," as our pastor likes to call them. that evening we will meet with a potential photographer, as well. so much to do!
this coming weekend, my mom, david's mom, laurie, and i are going to meet at david's bridal to try on more dresses. over the lunch hour we will head to ikea for lunch and to pick up a few items, and then we'll mosey over to house of brides for another appointment. it should be fun, and i'm really glad that marty can join us!
and now for the latest in weather: on october twelfth we had snow. lots of snow. and now, on december twelfth, we have fifty-degree temperatures and drizzling rain. silly weather. sure, snow is pretty. sure, snow makes it really feel like christmas-time. sure, snow creates a gorgeous wonderland, blahblahblah . . . but i'll take this rain over driving through—and trying to find parking in—two feet of snow any day!