no news is good news, where ramona is concerned.
in other baby news, today is susanna's due date. so far i haven't heard anything, but peter did his best to make sure the way was clear, had the baby decided to come this past week. they got three feet of snow last wednesday and peter had to shovel three times in one day—two hours each time—to keep up.
the front walkway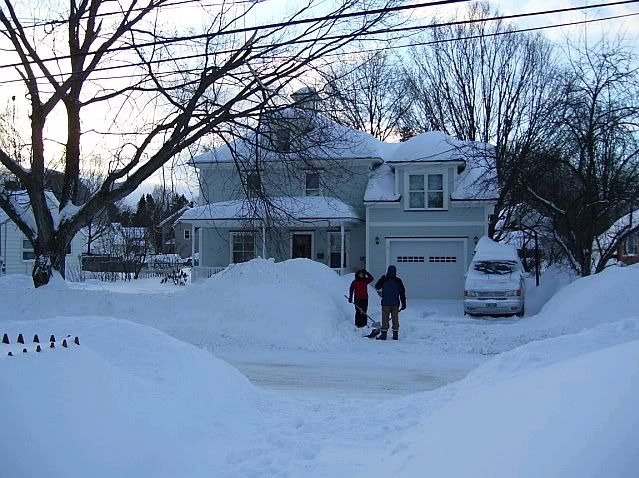 say hello to neighbors
ken and jay!



this past saturday, audrey, emily, joanna, julie, kjersten, melissa, and i ventured out to yet another brunch destination (though, seeing as we left at eight thirty in the morning, it was really breakfast). this month
'
s choice: the bongo room. my review is a bit long, but bear with me. i have so few moments of cleverness.

brash hostess: when we arrived, madame hostess asked if our whole party was there. we were missing two of our seven. she explained that she couldn't seat us until they arrived, but if we wanted to we could wait over by the bar. assuming she had given us an option, we chose to remain by the front door, out of the way of those entering the restaurant. after about a minute, she caught our attention and said, rather tersely, "you need to go wait by the bar." oookay . . .
out of the way, my patootie: as we stood by the bar, eyeing the one table left at which our party would fit, we were bumped into by every server who had to make their way to and from the kitchen, had to squish together to make room for those walking past us to their seats, and were eventually shooed out of the way to make room for two women who wanted to eat at the bar.
nice server: once we were seated, our server was perfectly pleasant, attentive, and helpful. and she was as cute as her name: penny. we [heart] penny.
good food: though i didn't order anything terribly exotic, i fully enjoyed my croissant sandwich: a light, flaky croissant with a slice of melted muenster cheese, one egg over hard, and a few slices of bacon. greasy as all get-out, but good comfort food on a cold, snowy morning. i opted not to eat many of the (rather spicy) potatoes, but enjoyed the meal all the same.
overall, it was a great time: these six women, the reason i go to these brunches, were as fun and funny as ever. hearing everyone's stories and catching up on the month's events made it worth it to be out of bed before eight on a saturday morning.
photos are forthcoming.

what did you do this weekend?