I know.
I KNOW.
Where have I been? What have I been doing? Is everything okay? Why am I not blogging?
I've heard all the questions (and the taunts,
EMann
). And here are your answers:
1 - At the end of April, I resigned from my position as University Editor at
North Park University
in favor of that of Deputy Copy Editor at
Rotary International
. This move was the result of much drama, difficulty, and sadness, but I truly feel it is the right move for me. I began on Monday, May 5, and will be working, primarily, on
The Rotarian
magazine, which is a monthly publication. I have much to learn, but I am certain my new boss will walk me through it patiently. And no, they didn't give me a badge.
2 - A week before my last day at North Park, I helped to host a retirement party for my dad, who has served North Park for the past 33 years. It was a beautiful celebration honoring this man who has given so much of himself to his alma mater and to its students, alumni, faculty, and staff. David and I were charged with putting together a photo montage of Dad's life, and I think it turned out quite well (if I do say so myself). Maybe we'll figure out a way to post it here sometime.
3 - We hosted Easter at our apartment, which gave us the opportunity to spend the day with this cutie-patootie:
When I originally began this post (three weeks ago), I wrote that she would soon be joined by a new sibling. But the writing of that post was interrupted - I kid you not - by the birth of said sibling, which was a whole big crazy thing in itself. I'll share more on that later. For now I'll just say, it's a girl!
4 - We also celebrated the 97th birthday of David's grandpa, which allowed us another day of fun with the aforementioned cutie-patootie.
5 - David and I celebrated his birthday by going to see the Cubs beat the Diamondbacks at Wrigley Field. It was our first game of the season, and they won, which David has never seen them do when he has been to the park. It was a bit of a chilly day, but it was a really fun way to wish my husband of almost one year a very happy 26th birthday!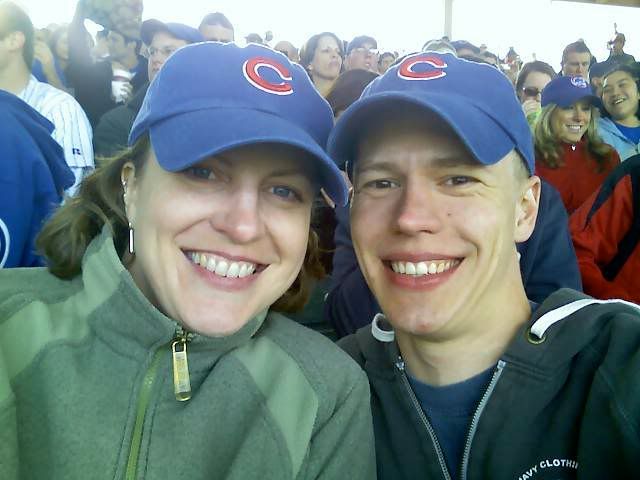 6 - On Mother's Day, we hosted both of our sets of parents and celebrated our wonderful mothers, as well as David's birthday, by grilling on David's early anniversary gift.

7 - I took a day off to assist my sister-in-law Susanna as she set up and facilitated a retreat centered on the story of the prodigal son for
Faith at Work
, an organization that works with people to help them discern God's call in their life. It was so good to see Susanna in good health again, and to spend two days with her working on this thing that she has created and that people respond to so strongly.
8 - We spent an afternoon honoring my mom, who has retired from the
Latin School of Chicago
after 22 years there. She was given a very sweet, very funny send-off by her two teammates, Rose and Carrie, who actually went so far as to say that they worry they won't know what to do once she's gone because they've always thought of WWJD as What Would Jan Do? Well, that, and neither of them owns a watch.
9 - A few weeks after I left North Park, my former co-workers got together to give me a belated farewell party, which doubled as a farewell for our friend
Josh
, who has moved to Ecuador to work with a soccer ministry there. Things got a little silly toward the end, and I may or may not have been the one behind the Charlie's Angels pose.
10 - Over Memorial Day Weekend, we went to Michigan to visit David's sister Sarah and her family. While we have a plethora of photos and stories to share, I'll have to save them for another post.
11 - This morning, my brother was in town for a few hours after spending a week in the
Boundary Waters
with his college buddies. His flight wasn't until 4, so David and I joined him and my parents for brunch at
Tre Kronor
. We sat outside and enjoyed the delicious food, the cool breeze, and the chance to see Pete again.