have you ever felt like there's something you want to or should be doing, but you can't pinpoint what it is? when i was in grade school, my friend laurie taught me how to cross-stitch. we would cross-stitch every chance we got. by the time i was in college, i was an avid cross-stitcher. i would spend hours working on counted cross-stitch projects; most often the final product was intended as a gift. i made an alphabet sampler for my mother, per her request: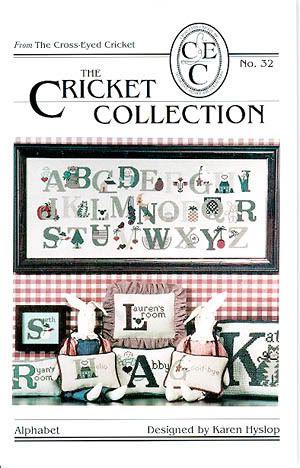 a sewing-room scene for my aunt: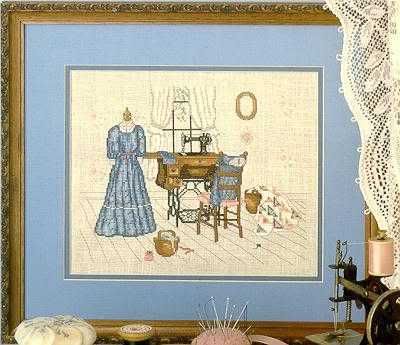 a wedding-gown scene for my sister-in-law as a gift for her when she married my brother:

a gigantic viking ship (on burlap!) for my aunt and uncle to hang in their summer home:

and an alphabet sampler (of which i could not find an image) for isaak upon his birth. ironically, most of the projects i intended for myself never were finished.
it has been a few years since i have cross-stitched anything at all, despite the fact that, some days, i felt like i should be doing something. like there was something i could do to spend time wisely or expend some creative energy. nonetheless, the wooden crabtree & evelyn box in which i store my supplies sat on a shelf in my closet, unopened.

until now. when david and i realized that we would, indeed, be able to make a trip to vermont to see our new nephew, aaron, and his family, i also realized that i had to kick it into gear to get an alphabet sampler made for him, as well. job one was heading to my favorite cross-stitch place, which is called, oh-so-appropriately, the cross-stitch place. or should i say, "was called"? i got in my little car and drove over there, so excited to start a new project, only to find that the cross-stitch place was no more. where did it go? why did it go? there was no indication of a new location, so i called their number. nothing. so sad.
knowing of no other cross-stitch shops (other than michael's, and let's face it, unless you want disney or precious moments patterns, you're outta luck), i scoured the web for cross-stitch stores in the chicago area (the closest ones are in rockford and kenosha, if you're wondering) or online.
that's when i discovered abc stitch therapy. what a site! you can find and order patterns by hundreds of different designers. so i ordered this funky sampler, thinking it would be the one that i stitch for aaron:

however, when the chart arrived in the mail, i realized just how large it is and how much time would be required to get it done. it's not that i don't want to spend time on this. it's that i want to get it done in two weeks so i can bring the finished product with me when we go to vermont. so the swirly sampler idea was scrapped, and a smaller sampler that i had bought years back and never stitched (and for which i could not find an image) has become my new project. if it is completed in good time (and if i like the final product), i will take a photo of it and post it. if it turns out to be crap, i will pick another one and start over.
but the point of this post has run away from me. what i was hoping to get across is that it has been so long since i have cross-stitched that i completely forgot just how much i enjoy it. it's a great rainy-day activity, as well as something to do to wind down before bed at night. it relaxes me, and i truly enjoy the process of creating something and seeing it come together before my very eyes.
so it is thanks to aaron that i have rediscovered this love. the past two nights that i have worked on the project for him have been such fun! when his sampler is complete, i plan to start on a small hanging project, perhaps for david's and my front door or front hall. but i'm going to keep that one to myself for a while.