i just couldn't stay away. not when there are brunches to be had with (and photos to be taken of) good friends!


this morning, steven and
melissa
came over--gorgeous hydrangeas in hand--for brunch. david and i put together a fruit salad, cooked up some sausage links and bacon, and offered up mimosas (which melissa so kindly concocted), and i flipped us some good ol' swedish
pancakes.
to give you a little background, my past forays into the realm of swedish pancakes have
not
always been successful (ask my mother or my husband--they can verify this fact).
as a full-blooded swede, this has been a source of frustration for me. make them thin
enough to be authentic AND flip them without turning them into a mangled mess? not my strongest suit.


but for some reason, today? today i rocked the
plätt pan
. so much so that, about three pancakes into the process, i called to melissa to grab my camera, stating that i had achieved Swedish Pancake Perfection.

and i truly think i did: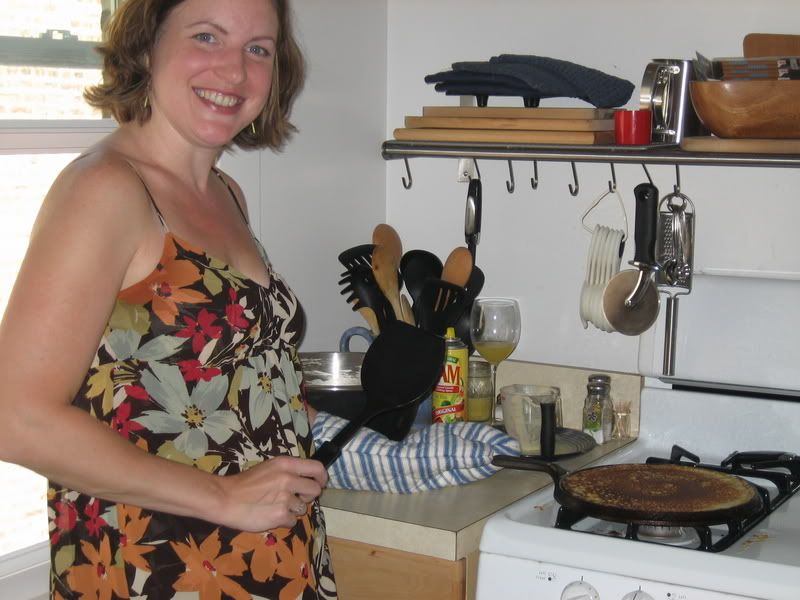 once the pan in the oven was filled with piping-hot pancakes, we made our way to the dining room, where everyone filled their plates. steven, who has been told to cut out coffee for the next few weeks, checked out the variety of teas we offered him. i believe he's in the midst of uttering a long and interested "ooOOooh . . ." in this photo:
happy three-day weekends to all!