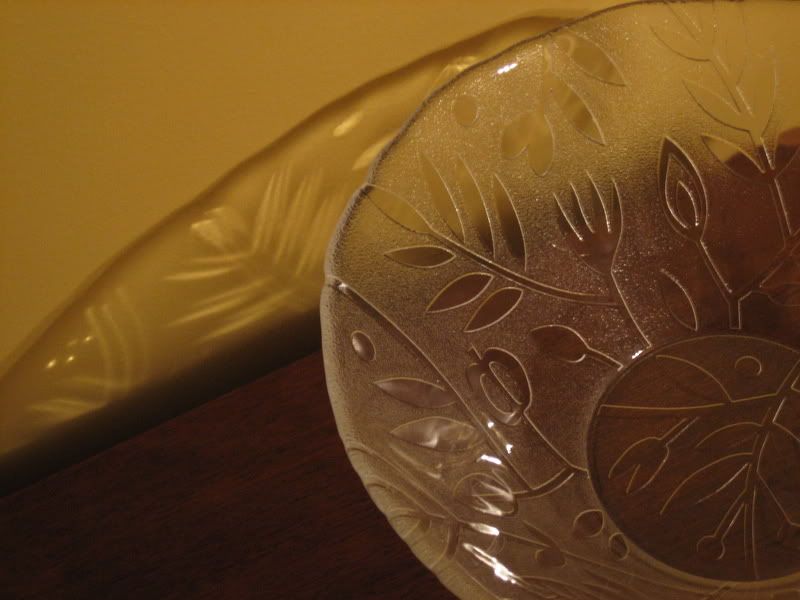 this past weekend marked the first homecoming at
north park
of which i was not in charge. since i left the alumni office in june to take on the role of university editor, i have had nothing to do with the planning or execution of homecoming.
and it. feels. great.
i did, however, offer to help with a few of the events on saturday. at 7:30 a.m. on saturday i headed to the gym to sign in alumni for the reunion breakfast. when that was over, i went home and took a nice, long nap before getting gussied up for the homecoming banquet.
the night before, when i told him that
a swing band
would be playing and dancing would be encouraged, david decided to join me. i was a bit surprised, but glad to have a date for the dinner.
little did i know, my colleague and the current director of the alumni office, rick, had called david and my parents to make sure that they would be there. at the end of the dinner and awards presentations, which are given to two outstanding alumni each year, rick began talking about one last presentation he needed to make. in a surreal moment during which i was sure my ego was getting the better of me, it became apparent that rick was, indeed, talking about me. "...dedicated the last five years to the alumni office..." "...making the transition into the communications office...." "...her skills as an editor are already making a difference..." the tears began to sting my eyes.
i did my best to regain my composure as i was asked to make my way to the podium to receive a gift. hugging rick, i called him a stinker, at which he laughed, and i accepted the large box, which was, unmistakably, from
the sweden shop
. about to head back to my seat, i realized i should say
something
, but knowing that i don't do well at speaking on the spot, i offered a brief, "i can't speak when i'm emotional, so i will simply say a quick 'thank you very much'." i think that sufficed.
the evening ended with a somewhat surprising number of people out on the dance floor, cutting a rug to a variety of tunes. david and i had a ton of fun as he attempted to swing dance with me (if we can take some lessons i dare say we'd be quite good). and my parents even got out there, which is a rare occasion.
before leaving, my mom asked to see what was in the box. i was curious myself, so i unwrapped the gift to reveal the beautiful
kosta boda
bowl you see atop this post.
being recognized publicly made it seem more real somehow that my efforts have been appreciated. i'm not sure what that says about me. but recognition or none, it was a wonderful night.