. . . and all through the house,

dishes sat 'round unwashed,
untouched by either spouse.

the presents, unwrapped, could be found here and there,

some used (like d's tetris), some set aside with care.
though snow did not fall and the day was not white

'twas a merry christmas for all, and for us a good night.
i'm not feeling witty enough to write out a re-creation of the full poem, so my abridged version will have to do. it was a different year this year. a grown-up year, you might say. with all six and a half of our nieces and nephews celebrating christmas with other family members, we were completely without child-inspired fun this year. and yet, it was a memorable first christmas as a married couple.
we spent christmas eve day making spritz cookies (david) and pepparkakor dough (me), and attending our church's annual service, which always ends with me tearing up at the sight of our packed-out church filled with candlelight, as each person in attendance holds a candle and sings "silent night". then we had dinner and opened gifts with my parents and aunt and uncle.
christmas day began early -- 5 a.m. to be exact -- as we woke up for our church's
julotta
service. we sang with a small ensemble and enjoyed a continental breakfast afterward, during which time we congratulated our friends
amy and sean
, who became engaged christmas eve. yay!
we spent the rest of the day with my parents, who came to our apartment for lunch. we all got a chance to nap during
harry potter and the prisoner of azkaban
and enjoy a chance to relax and visit.
a few weeks ago i had mentioned to
maren
that i might post my
pepparkakor
recipe, but it never happened. sorry about that, mar! i'm posting it now, along with our spritz recipe. enjoy!
swedish pepparkakor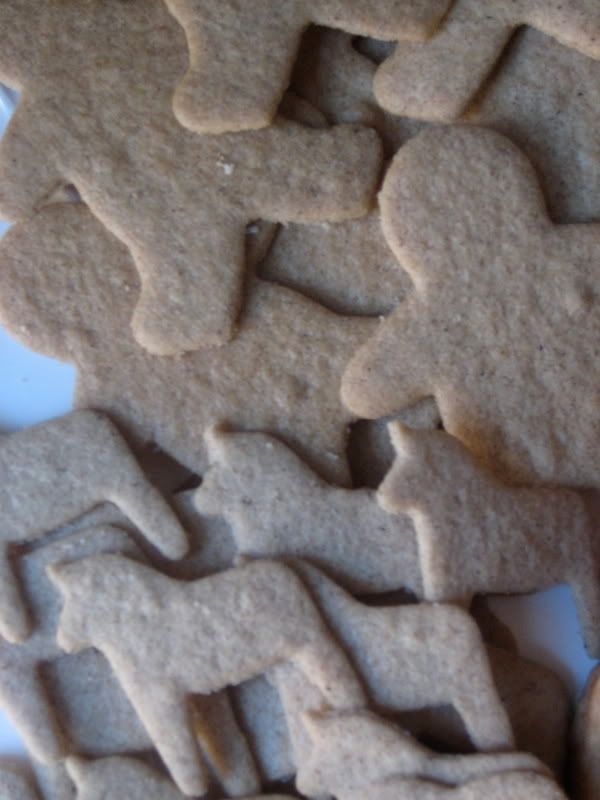 1/2 pound butter
1 1/2 cup sugar
1 tablespoon clear corn syrup
2 teaspoon baking soda dissolved in 1 T. hot water
1 large egg
sift together:
3 1/4 cup flour
3 teaspoon ground cinnamon
1 teaspoon ground ginger
1 teaspoon ground cloves
mix ingredients with electric mixer in order given. refrigerate overnight. roll out VERY thing and bake in 350-degree oven until lightly brown (3-5 minutes).
spritz cookies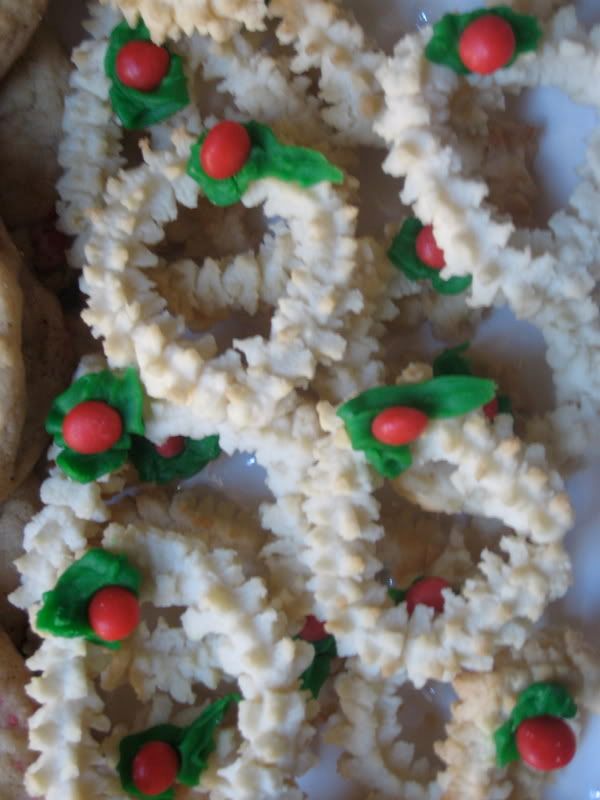 1 cup shortening or butter
3/4 cup sugar
1 egg
sift together:
2 1/4 cup flour
1/4 teaspoon baking powder
1/8 teaspoon salt
1 teaspoon lemon extract
cream butter, adding sugar gradually. add unbeaten egg, sifted dry ingredients, and flavoring. mix well.
fill
cookie press
half full. form cookies on ungreased cookie sheet.
bake at 375 degrees for 10-12 minutes or until lightly brown.
cookies can be decorated with sugar sprinkles or frosting and red hots (a la the wreaths at the left).